Oligonucleotides & Polymerases for your PCR
PCR is an indispensable technique for molecular biology research and clinical diagnosis. It is used for a wide variety of applications, namely cloning, sequencing, genotyping, mutagenesis and gene expression analysis. 
To ensure high-quality during the whole process, STAB VIDAoffers you a wide range of high-quality Oligonucleotides and Polymerases for your PCR applications. Supported by the latest nucleic acid technology, STAB VIDAoffers very reliable standard DNA/RNA oligonucleotides, and also premium DNA/RNA oligonucleotides, with a wide range of modifications and different purifications, at competitive prices. 
For your PCR or RT-PCR, and to maintain the best performance of your work, STAB VIDAoffers you a set of different high yield enzymes adjusted to your specific needs.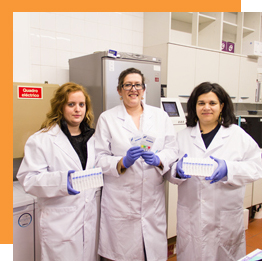 Thousands of oligos delivered, Zero complains…The best in the market!
Standard DNA Oligonucleotides
Premium DNA Oligonucleotides
Premium RNA Oligonucleotides
Pack Oligos
Polymerases